DkBlue Wristband says THANK YOU to Public Safety First Responders Share

Hello, my name is Kay, and my husband Jim and I have been in the security business for over 25 years. Basically we make our living monitoring electronic security alarms in a 24 hour call center (Az Security Control). When there is an alarm emergency, our facility calls the Police or Fire agency in the local area to respond.

In addition I have a brother & brother in law who are police officers (Phoenix and Avondale, AZ) and a few firefighter friends (ex employees who've grown up and joined a department.) Not to mention my family has been personally touched by an emergency which required rescue from a mountain trail (by helicopter). The men and women who saved a life that day can never be thanked enough.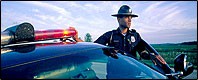 There are times when I see an Firefighter, LEO or EMT and want to throw my arms around them and say THANK YOU. But you can't do that in public . . . run up to a Police Officer and give him or her a bear hug. Heck it's hard to do it with my own brothers. They are so intimidating in their uniforms I feel like I should salute not hug!

One day I had this thought about how great it is that we show such support for our troops (God Bless those heroes and their families.) I just wanted something like that. Something to say to my brothers, and theirs. . .



"THANK YOU" For 24 hours a day, 7 days a week, 365 days a year!



So I had these blue bands made, and everyone agreed with me. We can't say Thank You enough. NOW we are building a Charitable Organization helping a lot of people with the distribution of this message.



PLEASE Wear The Blue Band- It's A Good Way To Give Public Safety A Bear Hug.
---

---


Current LODD listings for Law Enforcement Officers
---


Current LODD Listings for Firefighters
---


Current LODD Listings for EMS Responders
---